Activating Ethnoecologies

Cosmology as Creative Process

Liberatory Lines


This interdisciplinary course explores Ethnoecologies; or how groups of human beings understand and relate to the ecosystems around them. We will utilize academic research, art-making, fieldwork and writing as our primary methodologies of learning. We lean into both scientific and Traditional Ecological Knowledges as ways to interpret and understand our home habitats. Participants will explore both

ancestral ecosystems and those they are currently living in. A wide array of readings, video and podcasts will introduce us to how various cultural worldviews impact global environments. Final projects will address specific areas of interest with a creative, pedagogical and/or botanical intervention.
A cosmology is a map of a world view: how someone situates themself in relation to other beings, to the land, and to the cosmos. This course examines ancient and contemporary cosmologies as an artform that can both image the ethno-historical moment of a person and their culture as well as re-imagine it. Students will generate drafts of their own cosmologies while learning basic drawing and painting techniques from life and from the imagination.  No previous studio art experience is necessary and any creative practices held by the students are built upon and welcomed. ​​
Liberatory Lines is a studio art course engaging multiple drawing techniques and inspirations. Students become familiar with a wide range of approaches, histories and techniques for using line and pattern on paper and use drawing as emotional release, drawing as social practice, drawing as observation, drawing as meditation, drawing as play, drawing as politic and drawing to re-imagine the future­­­­­­. Participants will walk away being able to draw realistically from life and stylistically from dreams. Students will have a steady sketchbook practice and complete large-scale drawings.
Workshops and Consultations

Mapping

DIY Education

Dismantling Racism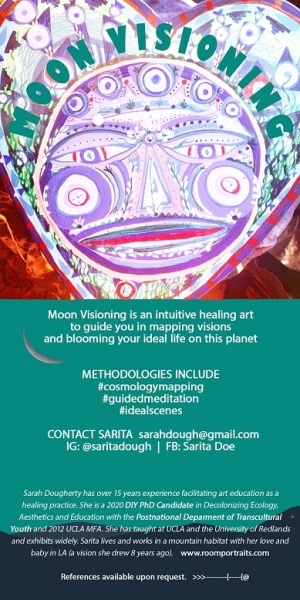 Creative Mapping allows us to explore and organize the many callings, priorities, and fields of interest wanting our attention in life. Gone is the need to stay in one traditional discipline; we are inherently interdisciplinary beings. From cosmology-mapping to ethnobotanical mapping, representing our memory, feeling, desires and work in visually interesting and creative ways allows us to craft our best life. Most sessions begin with a way of getting grounded; the deepest ones involve guided meditation to access clearest vision around what we are called to do. Contact saritadough@gmail.com for a workshop or individualized session. Previous sessions have been given for the Hammer Museum, CalState Long Beach, Community Corps of Santa Monica and more.

In 2014, David Whitaker and I started a DIY PhD for ourselves, desiring a rigorous and creative higher education program without the material and disciplinary contraints of an institution. Our DIY Education courses - ranging from a 10-week series to a 3 hour workshop - offer techniques for anyone to begin discovering and articulating their own DIY Education. This way of learning is an alternative to Western institutional education that separates mind and body. DIY Education can incorporate ancestral, intuitive, spiritual, earth-based, and body-centered ways of knowing and is open to anyone, irregardless of their previous degrees or lack thereof. I launched the most recent cohort in 2018 at the Women's Center for Creative Work.
I facilitate a workshop called White Accountability with the Four Elements, a unique blend of earth-based learning modalities and critical race education. White Accountability is an interactive introduction to white privilege and allyship that moves participants through earth, fire, air and water to understand, take responsability for, and process white supremacy culture in our personal lives and in our larger society in the US.  Any racial identity is welcome to attend and share. Great for organizations and community groups.

Artist and Counselor Randi Burley and I co-facilitate a Critical Pedagogy workshop to contextualize and engage people's experiences of power in daily life and institutions. Participants examine the visible and invisible values, philosophies & beliefs promoting white cultural supremacy and oppressing non-white cultures and persons in education. This workshop unpacks privileges, re-learns the histories and herstories of people of color in the US, and creates action plans for dismantling racism in institutions and interpersonal relationships.